What is Restylane®?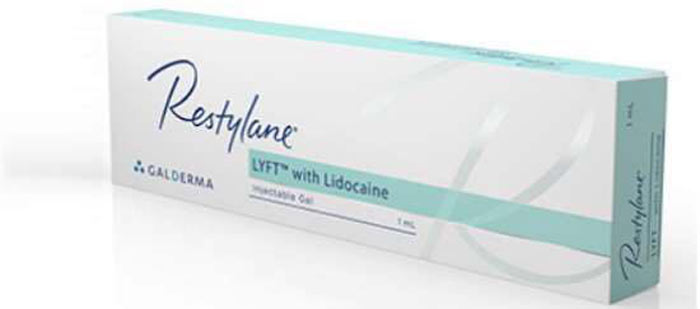 Restylane® is a gel injection designed for adults for the correction of moderate to severe facial wrinkles and folds, such as nasolabial folds or the lines between the nose and mouth. The gel integrates into the dermal tissue then attracts and binds to water molecules to help maintain volume. Restylane® is made of Hyaluronic Acid, which is a natural occurring substance present in the body that provides volume and fullness to the skin. Over time, Restylane® is gradually broken down by the body and disappear without any residue. Restylane® is NOT a replacement for BOTOX® Cosmetic, since it does not alter the muscle activity.
Patient Reviews


Kind professional staff. Surgery was easy and painless.
Who is a good candidate for Restylane®?
A good candidate is someone who is NOT allergic to the key ingredients, such as hyaluronic acid or lidocaine, someone who does NOT have a history of multiple severe allergies, someone who does NOT have a history of excessive scarring or skin pigmentation disorders, and someone who does NOT have a history of bleeding disorders.
What happens before the procedure?
To better understand your overall health, your medical history will be evaluated prior to the procedure. In addition, a complete examination of your face is done in order to decide the most effective injection sites. All issues and concerns will be discussed. The areas that will be treated are marked and digital photographs are taken in order to determine the amount of improvement after the procedure. The amount and location of Restylane® injected corresponds with your initial desires. Treatment is performed on a unit dose of prepackaged syringes of 0.4 or 1.0 cc's. Syringes cannot be stored. The number of syringes used determines the cost of the treatment.
Is the treatment painful?
Every effort is made to minimize any discomfort you may feel. Local anesthesia is given prior to the treatment making the area numb prior to the Restylane® injection. Complimentary Nitrous Oxide may be used as well.
What happens during the procedure?
The treatment takes about 15 minutes and immediately after the treatment, you can expect slight redness, swelling, tenderness or an itching sensation in the treated area. This is a normal result of the injection. The discomfort is temporary and generally disappears in a few days.
What should I do after the procedure?
Immediately after a lip treatment, the lips may become swollen and look somewhat uneven. This can persist for a few days (up to a week). After your injection, keep your head elevated for one hour. Ice packs may be used for one to two days for pain and swelling. Additionally, over the counter ibuprofen may be used for discomfort and swelling. During the first 48 hours after your treatment, do not massage or rub the treated area. If you have had a lip enhancement, avoid puckering your lips for the first two days after the treatment. Until the initial swelling and redness have resolved, do not expose the treated area to intense heat (e.g. in a solarium or by sunbathing) or extreme cold. Injection-related reactions such as swelling, redness and tenderness might occur, but other types of reactions are very rare.