Restore Youthful Volume to the Face
At Lynchburg Aesthetics, Dr. William Carvajal, a highly recommended double-board certified plastic surgeon, understands that looking and feeling your best is key to a positive outlook. Dr. Carvajal knows that Juvederm™will restore youthful volume to the face, reduces sagging of the skin by filling it up from the inside, and re-contours drooping facial features.
What is Juvederm™?
Approved by the Food and Drug Administration in 2006, Juvederm™ is an injectable gel filler used for injection in the facial tissue to instantly smooth out moderate to severe facial wrinkles and folds (known as nasolabial folds)that appear along the side of the nose and mouth. Juvederm™can also be injected into the lips for lip augmentation and for the correction of perioral lines, which are wrinkles in the cutaneous lip area (commonly referred to as smoker's line or barcode). Juvederm™ is appropriate for any area of the face and can be used for facial contouring as well as to improve the appearance of scars, such as those caused by acne. Juvéderm can also be used to enhance the size and shape of the lips. All these areas will show distinct improvement after treatment with Juvederm™.
Patient Reviews


Excellent customer service. Called to confirm appointments. Had paperwork ready to fill out on arrival. Staff is very prompt and polite. Very relaxed environment. Excellence all the way round. Staff called after the procedure to check on how I was doing.
What is Juvederm™ made of?
Considered a non-invasive procedure, Juvederm™ is made of naturally occurring injectable hyaluronic acids used to provide up to nine months to one year of correction for moderate to severe wrinkles. Hyaluronic acid is a naturally occurring sugar found in the body and works by holding in water at the injection site and acting as a cushioning agent. It adds temporary volume and a smoother appearance to skin. Juvederm™also contains the local anesthetic lidocaine for a more comfortable injection as this numbs the treatment area within seconds.
How does Juvederm™ work?
Juvederm™ works by adding volume to the facial tissue through its active ingredient, hyaluronic acid. Hyaluronic acid stimulates the production of the connective tissue that plumps the skin (collagen). As you get older, the production of hyaluronic acid and collagen decreases, and this increases the appearance of sagging and wrinkling of the facial skin.
Who is a good candidate for Juvederm™?
Almost everyone is a candidate for Juvederm™. Juvederm™is non-allergenic and is a good choice for patients who have tried collagen injections but did not experience the results they wanted. Good candidates for Juvederm™filler treatments are those who would like to improve the appearance of facial lines or augment their lips.
You may be a good candidate for Juvederm™ if:
Are in good physical and emotional health
Would like to improve the appearance of facial lines
Would like to augment your lips
Have realistic expectations for the outcome
Precautions
Juvederm™should only be administered under the supervision of a licensed health care practitioner.
Inform your medical provider if you are using any substance, such as aspirin, ibuprofen, or naproxen, that may prolong bleeding or bruising.
Tell your medical provider if you are planning other laser treatments or a chemical peel, as there is a possible risk of inflammation at the treatment site if these procedures are performed after treatment.
Tell your medical provider if you are on immunosuppressive therapy used to decrease the body's immune response, as use of these products may result in an increased risk of infection.
Minimize strenuous exercise, exposure to extensive sun or heat, and alcoholic beverages within the first 24 hours following treatment.
Who is NOT a good candidate for Juvederm™?
You may not be a good candidate for Juvederm™ if you are allergic to the key ingredients, such as hyaluronic acid or lidocaine, or if you have a history of multiple severe allergies. You may not be a good candidate for Juvederm™ if you have:
A history of excessive scarring or skin pigmentation disorder.
A history of bleeding disorders.
If you are taking antibiotics, heart medication, or other drugs.
If you have certain medical conditions, such as neurological diseases.
If you are nursing or pregnant.
What happens before the procedure?
To better understand your overall health, your medical history will be evaluated prior to the procedure. In addition, a complete examination of your face is done in order to decide the most effective injection sites. All issues and concerns will be discussed. Prior to the procedure, your medical provider will use a pen to mark the areas to be treated, and digital photographs may be taken in order to determine the amount of improvement after the procedure. The amount and location of Juvederm™injected corresponds with your initial desires. Treatment is performed on a unit dose of prepackaged syringes, and the number of syringes used determines the cost of the treatment. Syringes cannot be stored.
Is the treatment painful?
Every effort is made to minimize any discomfort you may feel, but there may be some pain during or after the injection. Juvederm™is injected directly into the skin with a fine needle; however, Juvederm™contains the local anesthetic lidocaine to help lessen discomfort during injection, or your physician may choose to numb the site prior to injection.You should discuss these options with your physician prior to the procedure.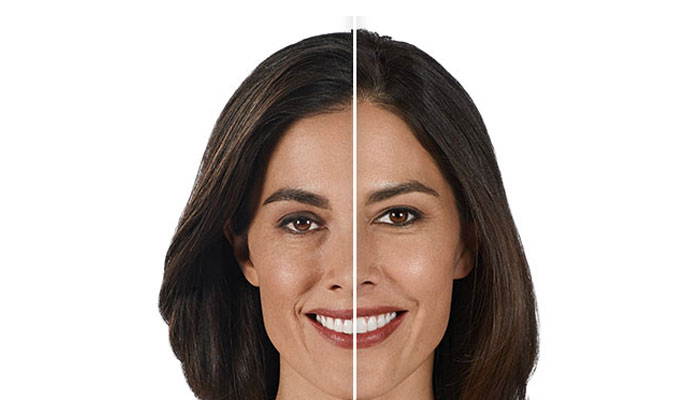 What happens during the procedure?
Recovery time is minimal; however, immediately after a treatment, the area may become swollen and look somewhat uneven. This can persist for a few days (up to a week). After your injection, keep your head elevated for one hour. Ice packs may be used for one to two days for pain and swelling. Additionally, over the counter ibuprofen may be used for discomfort and swelling. Within the first 24 hours, avoid strenuous exerciseor alcoholic beverages. Additionally, during the first 48 hours after your treatment, do not massage or rub the treated area. Until the initial swelling and redness have resolved, do not expose the treated area to intense heat (e.g. in a solarium or by sunbathing) or extreme cold. While injection-related reactions such as swelling, redness and tenderness might occur, other types of reactions are very rare.Ask your physician how long to wait before make-up can be applied after your procedure.
What are possible side effects?
The most commonly reported side effects with Juvederm™ include injection-site redness, swelling, pain, tenderness, firmness, lumps/bumps, bruising, discoloration, and itching. As with all skin injection procedures, there is a risk of infection.
What are the costs of Juvederm™ treatments?
Juvederm™ is considered a noninvasive (nonsurgical) procedure. This makes it a much more affordable option compared to surgical procedures like facelifts, and without all the risk of complications.Dermal filler prices are per syringe, and each syringe of Juvederm™is one cc. Please note, medical insurance considers cosmetic (aesthetic) procedures like dermal fillers to be electives, so your insurance will not reimburse you for your injections. The exact cost of Juvederm™varies. Factors that can affect the cost include provider fees, where you live, and whether you need to take time off work. Costs are also broken down by session, and the amount you may need depends on the area being treated.
What Should I Know About My Juvederm™ Provider?
Juvederm™is still considered a medical procedure, and for the best results it isimportant to obtainJuvederm™ injections from a licensed medical doctor experienced with dermal fillers.With the knowledge of a skilled surgeon and the eye of an artist, Dr. William Carvajal, has years of experience with dermal fillers, so if you are considering Juvederm™, contact Lynchburg Aesthetics today to schedule a consultation.